With many years of experience working within the manufacturing industry, I have seen the rapidly increased focus on digitalization. Not only in terms of leveraging digital technologies to become more efficient, but also to improve the customer journey and to create new services capitalizing on the company's assets and know-how.
Most companies have already addressed the consequences of digital technologies and set digitalization as a high priority on their strategic agenda. However, digitalization is about leveraging the benefits of digital technologies, and it could cover everything a company does. So how could you approach and structure your digitalization agenda and understand where to focus?
In the blog series "Transform and compete in the digital age" I will suggest two high-level frameworks that can be used as guidance when structuring the work of setting your digital transformation strategy and growing a digital business. With support from subject matter experts and your input, we will in the upcoming posts discuss and dive into specific areas within the two frameworks.

Understand the On stage and Backstage perspectives to begin setting your Digital Transformation Strategy
With inspiration from thought leaders, other industry actors and with knowledge gained by my own experience I have put together a summary of my findings and suggestions. This forms a DigitalTransformation Framework and is the foundation for my suggestion on how to begin setting your digital transformation strategy.
Figur 1 Digital Transformation Framework
On stage – Update fundamental assumptions about the arena where you compete
With a legacy of successful product/service innovation driven by new technologies many companies still rely heavily on a technology-first driven strategy. A strategy where the focus is on developing technology first and finding application areas and market/customer fit next. Voice of the customer is often given to experienced seniors within the company.
Though this has been, and still could be, a very successful strategy I suggest you to start with focusing on the effects digitalization has had on the arena where you compete and work to understand what has been updated. This is done by analyzing and challenging truths within three main areas; Customer, Value proposition and Competition.

Backstage – Understand the strengths and weaknesses of how you enable customer value
Digital technologies have since long been an enabler for internal efficiency and how customer value is enabled. But with changing customer behavior and needs and more advanced technologies available there are some key areas you should focus on:
• Innovation
• Operational processes
• Data
• Leadership, Organisation and Governance
• Solutions & Architecture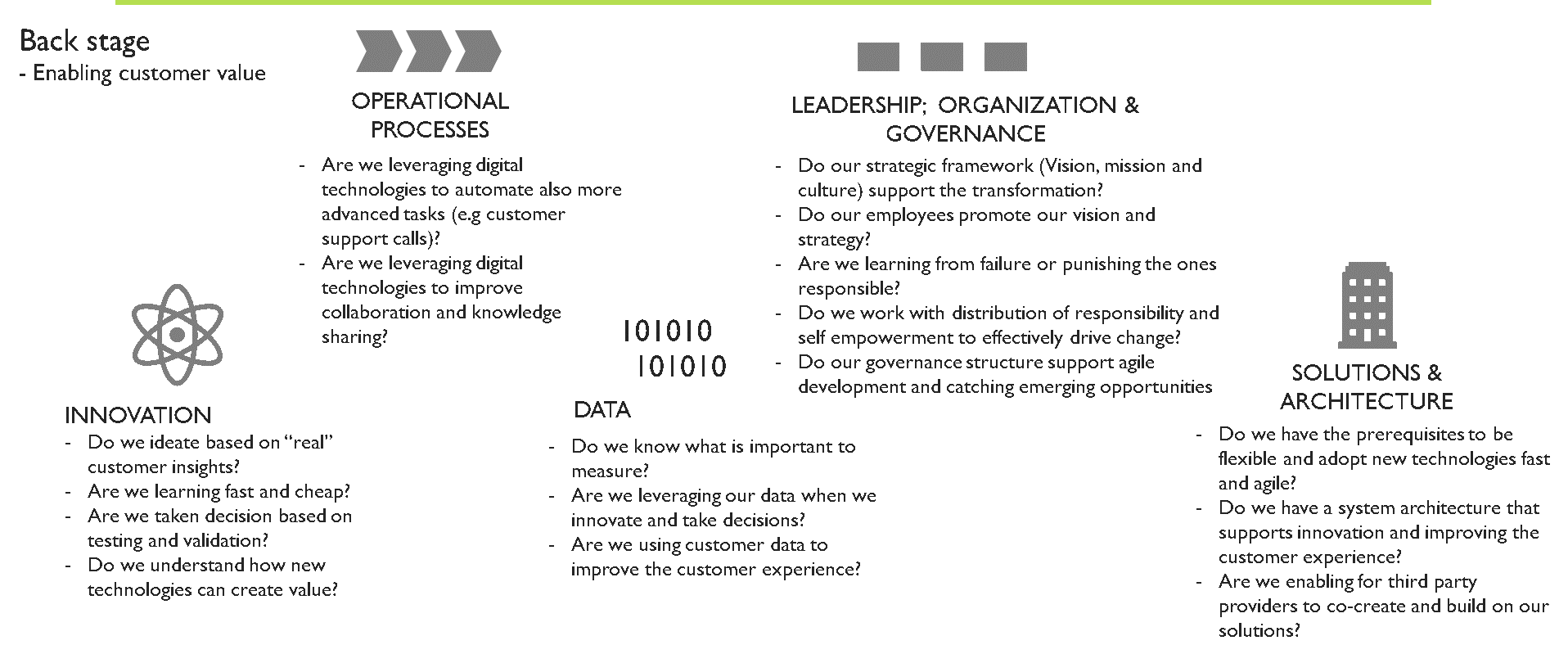 Understanding how and where to compete, and capabilities needed to win
By analyzing and understanding what is happening On stage and what your strengths and weaknesses are Backstage you get a great foundation for the strategic reasoning on how and where to compete as well as capabilities needed to win!
• How to win (Operational excellence, Product leadership, Customer intimacy)?
• Do we need to change our business model, for example move from selling products to value adding services?
• Do we need to rethink our delivery model?
• Can we create new digital businesses?
Online Digital Transformation Assessment
Where are your challenges and gaps? Spend a few minutes and take our Digital Transformation Assessment to get an indication on what areas you need to address!
Digital Transformation Assessment
We strive to always get new perspectives and want to have your input on how you approach Digital Transformation and what challenges you encounter. Your input will directly influence what subjects we will dive into in upcoming posts!
Sourced from our partner Centigo, contact their Digital Transformation expert Erik Lönnbark HERE or email directly at erik.lonnbark@centigo.se.